Descendatorium

A Horror Survival game made by
chrilley
September 26th, 2016 Update:
Version 1.0 is released!
Description
"Venture deep within the mad scientist Chrillenstein's dungeon to find a cure for the maniacal zombie plague his last experiment caused."
Controls
Arrow keys - Move
Shift - Sprint
Details
This game was made for a Clickteam Fusion 2.5 competition, thus it has a ton of limitations placed on it.
The rules are as follows:
- The game cannot exceed more than 25 events (per frame)
- Maximum of 4 frames
- Only one entry per user
- Already released games are not allowed
- No extensions are allowed
- You can use art made ahead of time.
- Public domain, creative-commons and licensed artwork allowed.
- Games should be based on the monthly theme
Guidelines
- No offensive material permitted
- No copyrighted material allowed
- Use common sense
Enjoy!
Let me know what you think in the comments below or poke me at
Twitter!
I had a lot of fun making this game and might revisit and expand on the concept sometime in the future!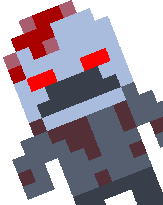 Download
Click download now to get access to the following files: